Microsft just becoming more open source with Satya Nadella onboard. Jadi inget jaman steve balmmer anti banget sama open source.  Remember the famous quota in 2001? "Linux is a cancer that attaches itself in an intellectual property sense to everything it touches," And guest what now they have github account that publish some of their code, includeing .net core frame work.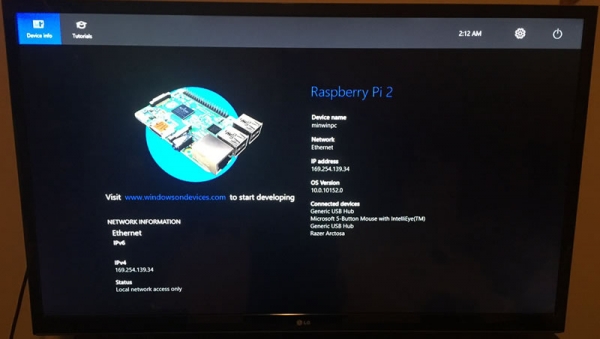 Stop about the fuzz, i wanna discuss about Windows 10 IoT Core. Pernah dengar iot? internet of things. dimana nanti nya semua alat eletronik bisa terhubung dengan internet. Contoh sederhana misalnya kita punya AC iot, trus kita lagi ke luar kota lupa matiin ac. tinggal info ke si ac untuk untuk matiin lamput and listrik. using sms, email or chat app. ME : ac please turn off, AC : ok bos.
So sejak windows 10, microsft ingin menjadi ada dimana2. Mereka sudah menjadi raja desktop,  server , game (xbox), mobile (windows phone),  sekarang mereka ingin ada di embedded devices misal di raspberry pi dan arduino. Itu ranah yang memang linux berkuasa.
How can i installed it?
-download windows iot (800Mb an)
-extract it on sd drive and boot it.
Mantap bro, jadi w bisa buat aplikasi yang biasa w buat di Visual studio di sini? Bisa jadi bisa engga hehee.
Banyak orang (termasuk saya) berharap ada desktop dan fasilitas remote (SSH dan semacamnya) ternyata ga, arrrgh..
Trus gimana mau buat aplikasi? Direct dari visual studio remotetly, gampang nya :
Connect microcontroler ke display
– set ip adress, user and pass
– buka VS trus connect ke devices..
Kedengeran nya keren ya, tapi malah jadi repot.. ngedebug dan developt apliikasi harus connect ke devices. Lebih simple kalau MS sediakan emulatorkan. Plus nya itu bisa debugging langsung ke devices